Release St Peter and St Paul's Archipelago (SPSPA)
2020, January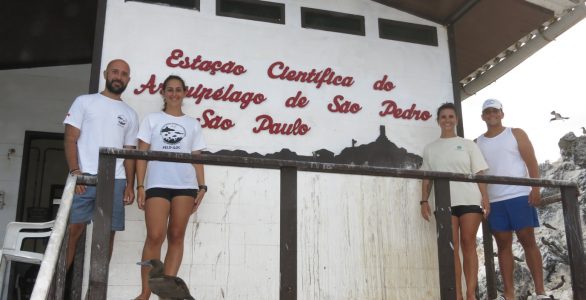 During last October took place the yearly expedition of the PELD-ILOC (Long-Term Ecological Research Program) to St Peter and St Paul's Archipelago (SPSPA). This year, the team was formed by Dr. Anaide Aued (UFSC), Dr. Thiago Mendes (UNIFESP), M.Sc. Amana Garrido (UFRJ) and Mateus Silva (Brazilian Navy).
SPSPA (00°55'N, 29°22'W) consists of a group of ten small islands located in the equatorial Atlantic halfway between Brazil and Africa. Given its diminished size and isolation, SPSPA is considered a natural laboratory for the study and monitoring of marine communities.
Arriving in the archipelago is not an easy task; it takes four days in a 17 meter fishing boat. After that, the team members stay sojourn for the next two weeks in the tiny scientific station maintained by the Brazilian Navy with very limited communication with the mainland.
The main objectives of the expedition was to perform the annual monitoring of reef components and activities included assessments of the benthic community and the fish assemblage, remote filming of feeding interactions between fish and the benthos, evaluation of the population status of the crab Grapsus grapsus, collection of fish, algae, cnidarians and other invertebrates.
The research conducted by our group is generating important information for this unique Atlantic reef system. Given the recent creation of a new Marine Protected Area around SPSPA we hope that our research will help improve local management and protection in face of escalating global impacts on the oceans.